Warning: This post not for the faint of heart!
It turns out that February sucked more than a little, Kitties.
There was my disasterous fall in my circus stunt gone wrong; my twice-infected toe; and ML's 50th wake.
And then there was Willie's near-wake.
There is a very evil and ferocious black tom cat who has been terrorizing us. He lives down the road in a junk yard heap of dilapidation. His "caretakers" feed him, but will not neuter him. (ML tried that.) He is under the delusion that my yards are his yards. He has been around ever since the Mosaics moved into this house, but he only started really coming around very frequently in the late afternoons right after I moved in.
Black on black violence, Kitties!
His head is as fat as his balls.
He is fearless and cunning, and lies in wait for us. I maintain a near-constant vigil from my many window seats. It is exhausting.
Two weeks ago he threw down with Willie, mere
feets
from Willie's own front porch. By the time ML got to Willie, this is what Willie looked like (He looked worse. This was after the fur doctor cleaned him up):
I will spare you the gory details of the minutes and hours following but will say that many stinky bodily excretions were covering Willie and ML as she yanked him out from under the front deck and raced him to the fur doctor's. It is hard to say who was closer to fainting from the adrenaline surge, ML or Willie.
He was in much pain and could not walk for a couple of days, and then could only walk with his back legs going in a different direction from his front legs. Today he seems back to his (very) old self, and can even trot at his geriatric pace in a straight line. Sort of.
You all know that stress and anger do not nurture the blogging muse. We have all been pretty unmotivated when it comes to our posts. Plus, I have been very busy for those few rare moments in the morning when I do get to go outside, replacing his
eau de toilet
all over my yards and doors with my own signature scent.
He is really pissing me off, Kitties.
ML got a trap from Animal Control the next morning and watched Tom walk around it two days in a row to spray the back of my shed that she placed it in. We caught an irritated possum on the second night.
And then I had an idea.
I got a gun. An air gun that shoots pellets. I think
Militant
Mosaic Lady is going to let me shoot Tom bin Laden.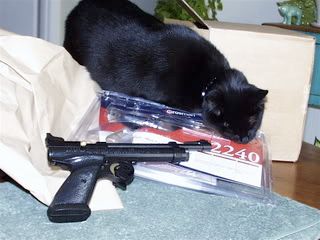 Smells like Tom spirit!
The bummer of all this is that just when we thought ML was going to get us a new COUCH for her birthday, now she is probably going to
get us THIS
. I'm sure you know how that thrills me.
She keeps telling me it's because she loves me so much and that it will protect the geriatrics who just like to sit on the back benches, mostly, to catch the suns in their furs.
And then there is that summer snake fetish of Sadie's.
It will go here, 100 feet of it, to enclose the deck and pretty much all of the grass that you can see. I will be furious, of course, and will take my frustration out on Sadie, of course, and ML will be forced to let me roam the yards freely, of course, and then she will continue to spend the rest of her (very limited) days obsessing over my whereabouts and my safety, of course.
I'm loaded for Tom, Kitties!
No country for Old Toms!
There will be blood!