Kitties, I learned a new word:
geegaw
. It is a variant of gewgaw and means
a showy trifle - a bauble or trinket

. Some of you might call them

chotzkes

like I used to.
It's a very funny word that describes Mosaic Lady's new obsession - making stuff with vintage jewelry!
Of course, I act as Art Director and Creative Consultant. I wanted to show off some of my recent masterpieces.

After I choose my geegaws, I sniff the glue to be sure it is fresh.
Sometimes I over-sniff the glue.
Luckily, I'd already laid out my vision
for this frame
before passing out.
I keep my distance from the glue next time.
Voila!
A purple mirror.
For this large photo frame, I did some quality control on the lazy susan.
I sign off on the design layout...
and then I OK the final product.
Here is this week's creation - a mirror. Do you love the periwinkle blue? Be sure to biggify any of these to see the individual geegaws.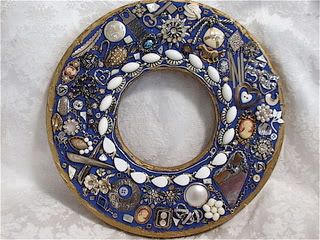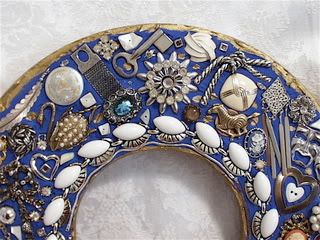 I like this new fetish of GL's a lot because we can do it inside at any time of day with any kind of weathers.
She lets me unpack the boxes of geegaws when they come in the mail. This is a safety precaution because she still makes herself bleed every day trying to open them with scissors. And she lets me wear the necklaces.
Geegaws are way more fun to whap off the tables than china shards, and because there is no grouting, I do not get toxic dusts in my silky furs.
After my part-time job is done, I return to my full-time life's mission - yard vigilante. My air gun needs air, apparently. No one told me I needed CO2 things to power my new gun!
I wish
Mosaic
Geegaw Lady and
Mosaic
Geegaw Dawg were more helpful in the
War On Tomerism.