I have been waiting for the delivery of the air for my air gun for many, many naps!
Today I learned that Fed Ex can not find Mosaic House!
Whassup with that?
ML has gotten forty-five bazillion deliveries here so far.
It is a conspiracy designed to thwart my
War on Tomerism.
I did not expect my
War on Tomerism
to take so long and cost so much, frankly.
Fortunately, there are geegaws to be pawed through and more frames and mirrors to design.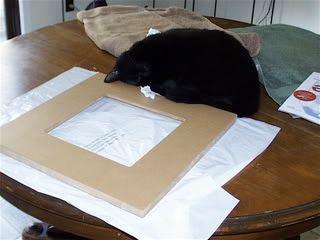 Aaaaaaaaaaaaaaaarrrrrrrrrrrrrgggggggggggghhhhhhhhhhh!
I got too close to the Welbond glue again.